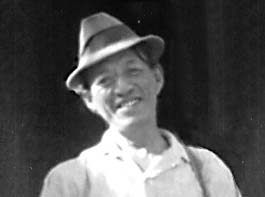 The late master artist, Jampa Tsetan from Lhasa
Tibetan Artists in Dharamsala

Since I, Atsuro visited Alchi temple in Ladakh in mid-summer 1985,
out of curiosity "how and by whom those images were created?",
I repeatedly visited Northern India range and searching art sources around.
One of those days, Mr. Pema Gyalpo (the head of Tibet Culture Centre Tokyo Japan)
gave me an introduction to meet the master artist Jampa Tsetan who was
living in Dharmsala. And I Immediately proposed the artist.
Although it was very short seasons I got teaching of the artist
'cause his passing away suddenly in 1988 at 60.
Anyway the days with him and his family were,
perhaps one of the most peaceful moments in my life.
In the same relationship to him, I met some his disciples: Ven.Thupten,Mr. Lobsang,
and some Japanese disciples, Mr.Kenji Babasaki, Ms.Mie Tamaki. and also Westerners.
Among them, most good fellow of mine was
younger Mr.Tsering Dhundup, the eldest son of Jampa-la,
Obviously he's in new generation.
He's frank, his study reflecting on me.
And I agreed with him on the Rock music taste.
In 1995, I invited the artist Mr.Tsering to Japan.
He did good lectures at Tibet Culture Centre Tokyo and Bukkyo Univ. Kyoto
(Owing so much to Prof. Onoda in the Univ. for the arrangement).
Anyway here settled my matter with Tibet or Tibetan.
Lastly make a mention of, unforgettable existence of other master artists in Dharamsala.
Ven.Jamyang who keeps sMan-ris Lhasa style exactly same as late Jampa's tradition.
Also Ven.Sange Yeshe in the Library class of Tibetan secretariat. Also Gompo-la in T.C.V.school.
And Sonam-Wangchuk & Lodi who came from Bhutan.
And Master Rinzin-Paljor, who completed 2 volumes of iconometric treatise but unfortunately died recently.
Most of these artists are sMan-ris style painters.
Some do class teaching and others hold traditional master-disciple system.
Anyway they all help and support young able artists to rise in future of Tibetan culture.
So well, at a distance from Dharamsala within Himachal Pradesh-----in Manali,
there's another master sPon-Dorje, the teacher of Manali traditional art school.
He himself is the expert of delicate Karma-Gadri style,
and teaching for young disciples who come from Zanskar and Spiti. concentrating
to keep both Indian and Tibetan culture, beyond the border.
And by such deed of them, introducing the spirit of Thangka art toward all of the world.
(I'm sorry that lacking unity of the title of honour.)


ATSURO SETO
retouched on "The Bulletin of Tibet Culture Centre International Japan", July 1993, p.24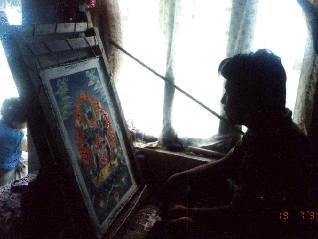 Lobsang-la, disciple of Jampa-la, painting Chakrasamvara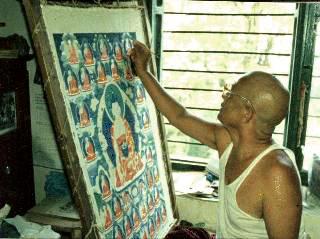 Monk artist, Ven.Jamyang-la painting Buddhas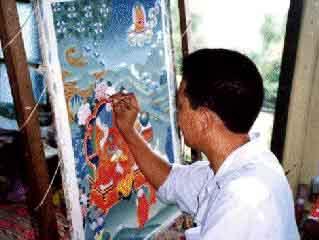 Sherap-la, disciple of Ven.Jamyang. He's nice!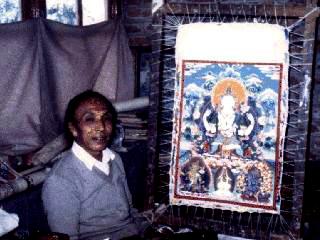 Gompo-la, TCV teacher painting Avalokitesvara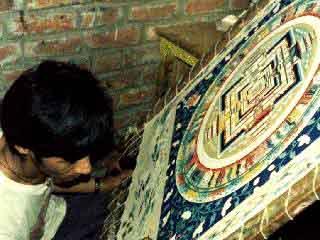 Son of Gompo-la, painting Kalachakra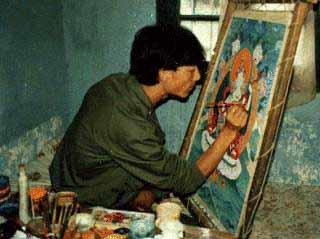 Thargye-la, disciple of Ven.Sange Yeshe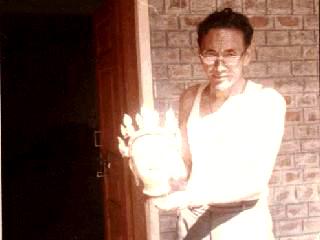 Handicraft centre, Master sculptor with his Vajrayogini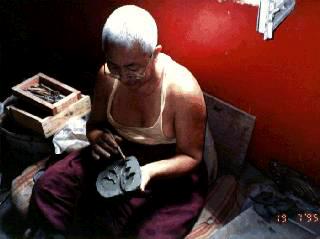 Another Sculptor preparing leaf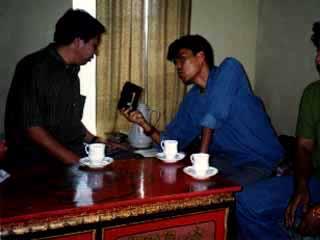 NorbuLingka art master TenChoe-la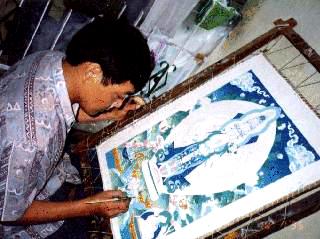 Tashi Dorje-la, son of Rinzin Paljor, with Avalokitesvara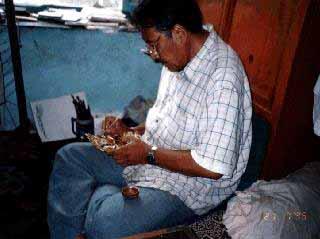 Urgyan-la, expert of facial finishing on statues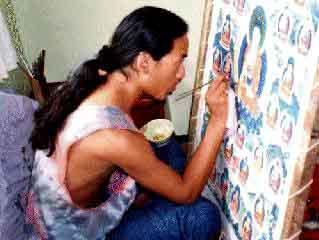 Migmar-la recently from Lhasa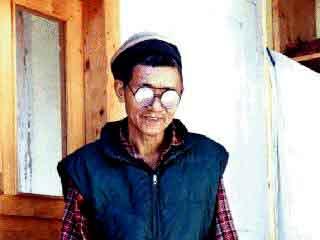 sPon Dorje-la, Manali art school Master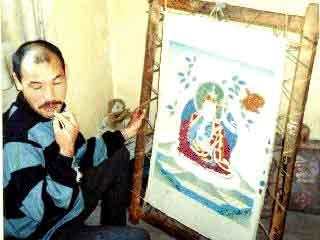 Ronchenpa-ji, Zanskari artist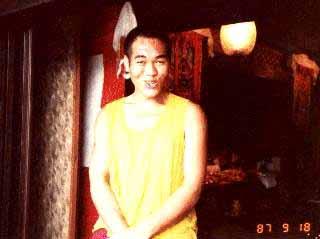 My friend Rev.Thonden-la, Gyud-med 3D mandala artist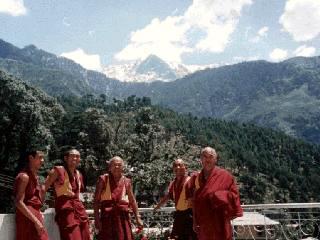 Venerable Gyud-med Tantric artists
All these photos're taken by me, Atsuro Seto
or brought by my friend: Mr.Tsering Dhundup
when he visited Japan to introduce their activities
as below: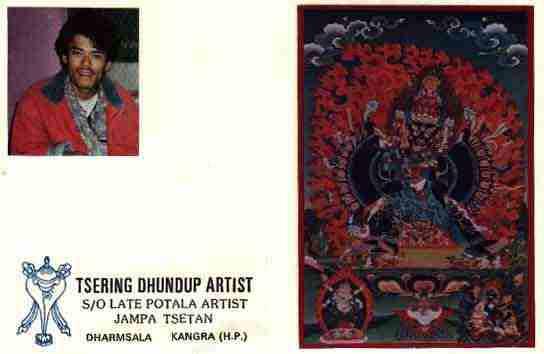 Message from The Artist:

My late father Jampa Tsetan had come refuge with H.H.the Dalai Lama

and been painting Thangka in Dharmsala since then.

All those good days, many Tibetan and foreign disciples gathering around him.

I was staring at their passionate works and growing there I've become an artist.

Now I come this land Japan where my father once visited.

So I wish we Tibetan and Japanese can harmonize the image of Buddha inside of ours.

Actually, art is a unique human expression.

Through art, we can communicate even the most subtle perception.

Don't you think so? Thank you to be here.



Tsering Dhundup



A Tibetan artist from Dharmsala, INDIA
Lectured on the Art in
Aug. '95 at Tibet Culture Centre International, Tokyo.
Sep. '95 at Bukkyo University, Kyoto, Japan.