Festival of Tibet 2000 in Bombay,
Reporter: Atsuro Seto (Japanese)
Sorry for my broken English below.
This page is not yet finished since 2000, Yeah 10years ago!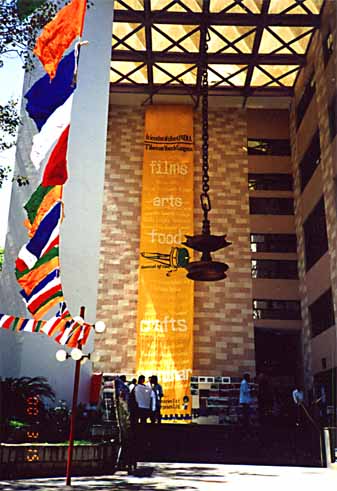 For six days from March 12, 2000 to 17th, a grand event: "Festival of Tibet 2000" to introduce Tibetan culture to the whole India and to the all over the world was held in Bombay.

Of course, before that, in several places in India, the similar events had been done by Tibetan exile themselves, gained constant results. Especially in this case, this festival was produced in harmonic cooperation with a Tibetan organization: "Tibetan Youth Congress", and an Indian support group for Tibet: "Friends of Tibet". It was , so to say, an unprecedented epoch-making event in India as a tolerant host country for Tibetan exile that Indian themselves became a messenger for the first time, and to ask all people who lived in India about: "What is Tibet? Who is Tibetan exile?" (Otherwise, there are many many tribes and races in India since pre-imperial times, not especially Tibetan, not especially now).

You could see, of their well-planned preceding advertisement on the worldwide internet for more than a half year before. Various posters and pamphlets designed with the highest standard quality of Indian mass communication. Acquiring sponsorship from the two Indian leading companies: Reliance Industries Ltd & Piramal Enterprises Ltd.. those were certainly good achievements of Indian supporters' side.

While Tibetan side thanked to them and concentrated on a fruitfulness of contents by leaving such external efforts to Friends of Tibet. By the long and persistent appeal of Tibetan Youth Congress, there come Tibetan professionals of various fields, artists from their schools of music, dancing, crafts, and painting, etc.. also the expert monks of esoteric ceremony of several monastic sects, and many promising student volunteers, they come together from everywhere over the India continent where Tibetan refugee camp and village situated such as Dharamsala, Dehradun, Hunsor, etc..

Actual programs were going as the Ganges, screened cinema was changing the title everyday, colourful traditional dance performances and many other Tibetan events had been scheduled everyday from 10 to 10, hotter am to pm. Even if you would have to come every day and night, you couldn't be bored with them. With such certain top-grade contents, it could be called legitimate Tibetan international exhibition itself.

The main man in charge of this kept sunny days' festival was Mr. Sethu Das who has been a young editor of the Times of India group, Bombay branch, Economic Times section. Times of India itself is well known second largest circulated paper in the English world on this time. Mr. Sethu, gentle giant, his creative passion selflessly concentrated on Tibet, fully utilized modern networking connectivity and his own advertising technique attained wonderful effects.

Since they invited HH Dalai Lama and it had been announced that he would come to the first day's opening ceremony, seemed to have appealed to many Indians in Bombay, particularly the intellectual layer who had been not deep interest to Tibet but Dalai Lama with reimported reputation upon him from West.

Be blessed with sun, far hotter than 30 Centigrade constantly every day, it was not humid at all, I can say, easy to spend in the Bombay peninsula, almost an island! Even after the evenings, footsteps of the visitors continuously kept their rhythm.

And one more plus, it was scheduled that U.S. President Clinton would visit Bombay later on the same month 26th. So the two big names as a topic of current interest, on the Local TV news and the rumour of the town, they jumped into my eyes and ears so often.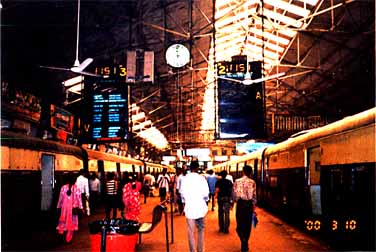 As for me, I arrived Bombay around 2 o'clock in the early morning of March 10th, 2 days before the festival. An airport taxi took me away to an hotel on the unknown outskirts. After having a nap there, I was out to barber and a cup of tea, then found myself around Khar station. Soon I checked out the hotel, rode on the train down to the south, yes finally I came India, and Bombay once again. Early afternoon, I reached at the hotel where the festival administration office was set on.
The hotel, Regency Inn was situated at the backstreet of "the Regal Cinema" that stood on the entrance corner for Colaba town, one of the most popular tourist spot in India, in Bombay.

If you coming to Colaba, directly from the airport by train, from the southern end of the rails at the terminal station: Church Gate, you must walk down directing a bit southeast for approximately 30 minutes or better catch a taxi, there's a dense crowded hotel street named Colaba, seemingly continue to the sea shore, but suddenly ended just behind the huge monument, the Indian Gate rises towards the ocean.

There I introduced myself to Indian main person Mr. Sethu Das, total manager Miss Alifia, Tibetan main stuff Mr. Lobsan and others.
After the how do you do, I was relieved and felt little fatigue from my journey. So I couldn't get what's going on there? Seemingly they were waiting something in the office which might be temporarily converted from oriental designed luxurious hotel room, what should I do next? it's their command base or get in touch satellite, nothing would be happen within this telephone booth with them. I started chasing after anybody who could let me out to the actual sites, from one site to another. That's all I did in my arrival day.

Actually there left only for two days until the raising of their curtain. The outside of the air-conditioned oriental hotel room, their rush work was on a crucial moment. Since one of the main hall was still under construction with mortar and dust, the cleaning and decoration of the hall had to be postponed to the last moment.
To regain such delays left here and there, everybody got going a bit high. Even until the morning of the first day, just before the opening, It happened to be heard the Indian staff and the Tibetan staff were arguing about something. (However now I can look back, soon on the second day, everybody clapped each other's shoulder with thankfulness).

In that day, the evening of 10th, Ms. Alifia as a coordinator, who cared of the accommodations and arrangement of the meals for the guests, told me that I would not have to worry about three meals for the entire festival days. Also she kindly arranged for me such sudden guest to stay within the hotel Regency Inn in that evening.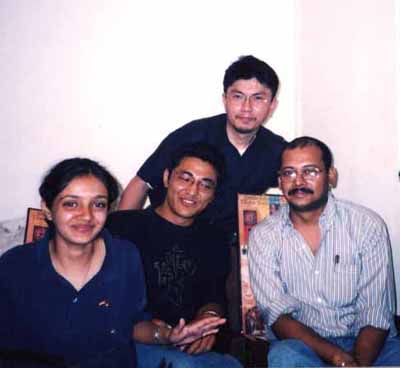 From the left, Miss fot: Alifia, and Lobsang-la(TYC), me(Atsuro), Bertie-ji(Times):

From Regal Cinema and the hotel Regency Inn for few minutes walk seaward, there's the huge stone monument: Gateway of India, facing the breakwater harbour to Elephanta, facing very strange direction, oriented nothing important on its gateway vector line. At the dusk of 10th (Vigil), An open space before the symbolic Gate, Tibetan exiles come together, prayed for the mother country and world peace.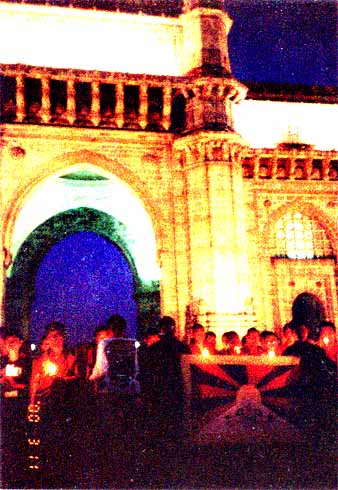 Tibetan mostly laymen and laywomen, mostly mothers, and students, put a candle light on each one palm and started praying their mantra as calm as motionlessly their demonstration was done.
People those who came to enjoy the evening breeze there were tempted unusual candles glow, surrounded this Tibetan group with lovely Indian instant curiosity, stayed look hard, when understanding on Tibetan wishes coming out, they're gone.

I chattered with the Mr. Lobsang of Youth Congress and other staffs in the front lounge of Regency Inn till late at night of 10th. Mr. Lobsang had been in Japan about 5 years ago, so he could speak Japanese considerably well.

I had invited in the same 5 years ago, a Tibetan friend of mine, Mr. Tsering Dhundup, Thangka artist from Dharamsala to Japan, he stayed in my house for half year or less through the end of the summer. Lobsang told me that he was the very schoolmate with Tsering in their Tibetan Children's Village (TCV) school at Dharamsala long time ago. Anyway they had not enough chance to encounter in Japan.

At the same night, I fulfilled to re-encounter with Mr. Indian Bertie D'souza whom I had met in Japan in September, last year. He has been a superior official at the Indian Economic Times editing station to Mr. Sethu Das who was in charge of the festival. If I did not get acquainted with Mr. Bertie and Mr. Sethu Das almost accidentally, I would not even think to come to India once again.

Perhaps my chances ripen in India. I should tell you the reason why I come to the festival, Bombay, India. In the last summer when I had just finished my own exhibition of my paintings and computer generated mandala works, I just scattered wreckage fragments of the exhibition result on my web page, then I got a mail from my pen-pal Mrs. Schweitzer lived in France :
"An interesting festival is being planned in Bombay. Why don't you come and join with me? I am really considering to come or not. Maybe we can meet at last beyond email exchange at the festival?" (I longed to meet her and say thanks for her maternal loveliness, she had given my daughter, her hearty advices on my dau's atopic baby skin. BTW she's a close relative of famous Dr. Schweitzer). That was the beginning of this story. With her suggestion, I sent some couple of email inquiries to Mr. Sethu Das about the festival, through them I offered that I would like to contribute my work: large-scaled CG Mandala Kalachakra that I had created for the recent exhibition of mine.

And by chance as his superior official, Mr. Bertie had come to Japan soon later, then I handed it over. Mr. Bertie D'souza whose most outstanding talent I regarded from the first meeting in Japan, was his successive firing of humour based on his decisive instinct, he's the non-stop Bombay express itself. Anywhere, in Japan and India, every place around him always filled with laughter. Mr. Bertie invited me to stay at their home on the next evening 11th and I thought that I might take him up on that offer.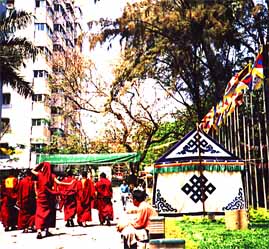 YB Chavan centre

On the next 11th morning, I was nothing but a bystander during all that morning, peeping on some dozen of Tibetan volunteers were making their effort to finish the main hall decoration. On the same afternoon, Mr. Bertie took me to the inside tour of his workplace, "Times of India" in the Time Of India Building in Bombay in high end main street.

It was a good old centuried, over weight stone built, Gothic imperial structure. However, I was surprised as soon as I entered one step inside, literally cool. filled up with the latest computer facility. Really contrastive with the noise of Bombay street outside, the inside of the building kept magnificent calm sounded like a moon base.
Just before the new era, Indian men and women were completely managing English and computers as their tool. On the contrary, stereotyped images of India suspended in time of colonial imagined from far east Japan they were absolute false. Indian themselves were about to tame such restive western horses dynamically.
Also what I was impressed was their relaxed mood of doing fine work. Sometimes I even heard someone's singing voice through their office partition horses' blinds, the Bollywood shout was not to be disturbing but enlivening the colleagues that was India.

We Japanese should bow down and learn from them, such a cheerful way of work that we have not yet realised. So far they seemed very easy going, but from the evening till around 9 pm with increasing tension to compete last minute, there commonly embodied a confidence on each other to lead to a rock steady result. It was enough to tempt me to work with them.

Data sent from Calcutta, Delhi, many other branches, and from all over the world, while plural computers connected in a network shared those data, How they co-processed and crowdedly layouted them onto a page within few minutes, was really breath-taking. It was just a few hours but full of thrilled indeed.
http://www.timesofindia.com/

Later when me and Mr. Bertie arrived at his home by his chartered SUMO, it was past 0:00 a.m. you know how I was glad, I got awaken with thankfulness to Mrs. Bertie had been waiting for us. While having midnite home cooking of his young wife, talking about strangeness of Japanese and Indian cultures both sunk in whisky, I was playing Norwegian Wood with his long time 5-stringed guitar, After a while I fell in a sleep.

The next morning, with invitation and guidance of Mr. Bertie, we went to the beach to drink flesh coconut beer. Slightly fermented alcoholic, soft and nice taste. By having given slight cuts on the surface of the trunk on the top of the coconut tree beforehand, consequently coming this morning, its sap should drop down from the ditches and be caught by a bucket hanging just below the bleed.

Early afternoon, Me and fully-dressed Mr. and Mrs. Bertie went to Dalai Lama lecture hall, Birla Matushri Hall.
In the evening of the first day of the festival, 12th, March, 2000. Dalai Lama's lecture held in the Birla Matushri Hall nearby the Church Gate station.
Dalai lama himself as an exile, India could be another mother country for him, alternative home ground. So he was in a very relaxed mood, not looked like in foreign lip service mode, I forgot precise phrase but he certainly said as, "For us Tibetan, India is our Guru(teacher) country." by that, he showed his respect to the Indian audiences firmly. Then rambling speech began, as he was enjoying casual chattering with acquaintances, Relaxed laughter of him and audiences were echoed in the hall.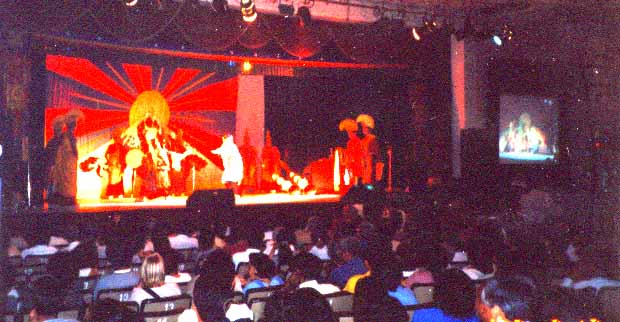 Birla Matushri Hall

In my point of view, this festival had been --since their preliminary planning-- owing so much to the latest technology and power of the network of Times of India group. More or less, it seemed to be functioning sophisticated political propaganda to realize Indian citizen against Chinese menace.

The opening and closing speech that the representative of Tibetan Youth Congress did were, set Indian middle and upper classes as his appeal target -- I am afraid of saying, but for me on that time -- felt like too much radical, it seemed to be too hot and eager. (I had been staying at Dharamsala for certain periods, for being given and received Tibetan Thangka painting methods and spirits from the first generation of Tibetan exiles. They taught me to fight on the canvas. You say so called artists are too much picture-like idealistic?) Anyway the one thing deeply pierced me was how seriously they were so irritated to be stuck in a degenerating future. "Youth" is momentarily forever radical, while how can we orient to senile.

For me, from the point of view of an artist, Again I had to imagine from scratch what I could, where should be the future of their hope. We all reckless, but only one time we can try the own reckless, if really reckless...

Let me show you the location of the three spots for the festival for one week
1. Dalai Lama lecture hall:
Birla Matushri Hall (next to the Bombay Hospital around Church Gate Station)
2. the main spot for the festival, cinema screening and other various performances:
YB Chavan centre (before the Mantralaya)
3. the hall for five photographers' exhibition, and the slide show:
Prince of Wales Museum (near the Jahingir Art Gallery)
Those three.
To feel how the festival really run, you'd better visit their official sites on the net. Do not forget an entry to their guest book.
feiendsoftibetINDIA
http://www.friendsoftibet.org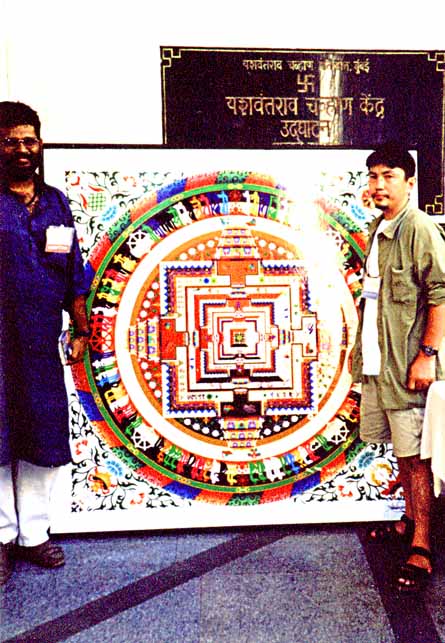 Computer generated Kalachakra Mandala given glory to the YB Chavan Centre front entrance (1m 70cm square).
Me, Atsuro Seto created it at the time of my own Mandala exhibition in Toyama in August, 99, later I contributed it to the Friends of Tibet. When Indian Economic Times chief editor, Mr. Bertie D'souza had visited Japan in September, 99, I had asked him to hand it over to Mr. Sethu Das who was his subordinates and the person in charge of this festival. After draft line-drawing in Cad DXF format, added tint, gradation, narrow and wide outlining with vector programs such as Corel Draw, and Fractal Expression.

The left in the photograph: the founder of "Friends of Tibet" in charge of this whole "Festival of Tibet 2000", Mr. Sethu Das. He is an elite in the editorial section of Indian Economic Times, Bombay branch, belongs to the Times of India group. Total design of the pamphlet, poster, brochure, etc. for this festival were all his works.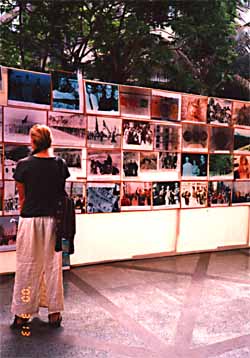 9-10-3 reports

At the open space of the YB Chavan Centre front entrance, "Gu-Chu-Sum" association held an exhibition of documentary stills on persecution in Tibet. Every visitor stood still before the pictured fact, the scars engraved into Tibetan bodies. Nobody could pretend not to see. There something really goes on. "Gu-Chu-Sum" is "nine, ten, three" of Tibetan numeral, they mean September, October, 1987, and March, 1988, on these months, years large-scaled desperate protest had occurred in Tibet.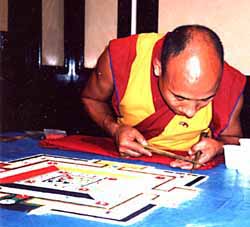 Sand Mandala construction by Namgyal monks in the YB Chavan Centre entrance floor
(from the complete plan of Kalachakra Mandala, only the the third layer, mind mandala was substantiated.)
It was started on Monday 13th, and destroyed at the climax of the closing ceremony on the last day of the festival, Friday 17th March.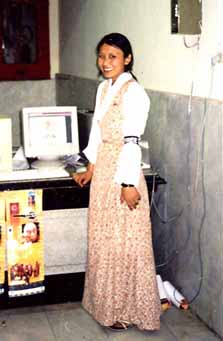 Several computers were being turned on during those days in the YB Chavan Centre lobby.
Visitors could access the Tibetan information search service on the web through them.
http://www.walktotibet.org
This page attracted young Indians in computer age.

I borrowed one of the computers, and did short demonstration of my animated Mandala CG works with original music composed by Mr. Sanzo Onoda.
I have been interested in similar goodness and risk between electric-driven computer network and hand-operated human-driven ancient Mandala.

<underconstruction begin>
I have been emphasizing that the future of computer culture should not be controlled by .......................blah
should not be a fear-oriented brain network but be a hearty network,
be restrained by self-controlled self-disciplined individual relies on each other's restraint.
depended on an effort of the inside
that the whole world would be going to connect with each individual, ......................blah
confidence not by Agitation, not by fear-oriented, but faith, not by chicken-game, computer is new Mahjong, board game.
<underconstruction end>

For Tibetan in such bloody fluid diffusion state as in exile, they as a mass have been wanting to conserve good old Buddhism as their nationalistic centripetal archetype, and couldn't be concerned with individual's likes and dislikes necessarily, for them, my multimedia work was something like a private joke, religious loserish antithesis against unconditional surrendering belief(ness), or heretical misinterpretation. let one walk alone like a rhinoceros, individual self-determination not a racial self-determinationHowever, Tibetan journalist Mr. Sonam Targye from Tibetan Radio station "Voice of Tibet" and the leaders of Indian digital art network http://www.yoart.com appreciated my digital works considerably high. regarded as contemporary works.

Actually, for their digital art exhibition, I have sent some tens of MB of digital works through the wire since my coming back to Japan immediately.
Japanese in business age were apt to regard my work as a lunatic religious fan art.

For the past several years, I have been annoyed with how to present my works in certain balance with such Japanese-averaged apparent atheistic in-sensitiveness.
I feel like I have been doing irrelevant service for modern Japanese if they really don't want to any possible ?
Such a dilemma has been bothering me

But, here India, the religious nature is full and overflow in their daily life, in other words, there's no religion monotonously exists in India. Never ever any specific religion can monopolies their chaotic nature of reality. Also Indian meditative attitude is more practical how to survive knowledge through unavoidable hell-like humid monsoon slump rather than air-conditioned mystic magic.....................blah blah
And here it is as accumulation of much more intellectual meditative reason superior to Japanese atheistic pretence<<<<<<<<<<<<<<SMOKED

Mr. Sonam Targye, from "Voice of Tibet" (http:www.vot.org): yet one and only Tibetan radio station in exile state, is a multi-talented director who even alone could cover from interview to announcing. During the festival, I had several opportunities to talk with him.

Because we somehow remembered each other, so I asked his career and I got convinced by his telling that he had been working in the Tibetan library of Dharamsala as a librarian through 1985 or 86, those were the days I began to come to Dharamsala for learning Mandala art, I frequently come the library to get some references. Sooner he left for the U.S.A. where he mastered so-called modern information technology and database construction. And now coming back to India, working with that skill.

So there we confirmed a common opinion, we said that Mandala and computer ever be the same. He told me that he had been thinking if he could make a brand new operating system with implementing the popular Buddhist icons set: Six Realms of Existence (The Wheel of Samsara) as his graphical user interface. With full of game nature for kids, much easier searchability for computer-blinded grand age, He dreamt of it should be done by modern Tibetan themselves. always with such laymen approach friendly Mahayana Buddhist gimmicks.

<underconstruction begin>
While I nominated five Buddha mandala system not only as the interface but the system itself under the hood. I meant that ...................zzzzzzzzzzzzz
Merely........smooooooooooooooooooooooooooooooooke
At each deepening stage of inference,........................zzzzzzzzzzz
While keeping possibility of the plural searches that a direction of an answer disagrees with,............................zzzzzzzzzzzzzz
Along the depth and span of consideration, ...........................smoooooooooooooooooke
Many directive possibilities (at least Five Buddhy meant on the Five coloured display areas) must be maintained as they are. And it should be..........smoooooke
Three-dimensional structure, ............................zzzzzzzzzzzzzzzzzzzzzz
That can be an ideal thing or not? I blah blahed like that.

Anyway, as limited as today's shitty progressive computer,
The information that simply swells out along a flow of time enormously
Shut in it in a tree classification of ghost legs of a straight line
Then will go deeply desperately there after all till checks that there is not an answer.
<underconstruction end>

Conversation without concreteness continued in such a way ceaselessly.
We handshaked and promised to keep on exchanging by email,
Soon after my reaching home, just an email from him about the rest of the story is arriving.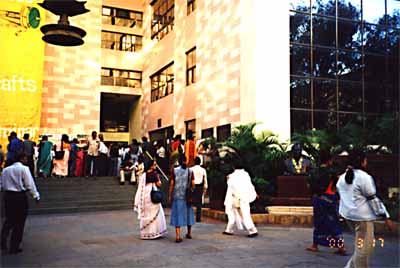 YB Chavan Centre

In YB Chavan Centre first base floor Main hall, The screening of various film such as "Kundun", "Seven years in Tibet", and "Adventure of the Tin Tin" were done day after day. In the email from Mr. Sethu Das on earlier days, on their early plan, there had been announcement that it could be a one large film festival about Tibet. And actually it came true. Under the name of festival of Tibet, for Tibet by Tibetan dispatch, Looked like every collectable film related Tibet was thoroughly gathered there. Really worth such luxurious contents might never come true in other places.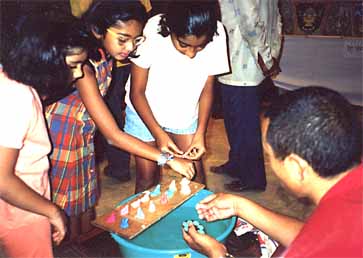 At the waiting lobby, the outside of a YB Chavan Centre screening hall,
The exhibition and demonstration of butter sculpture works by the monks from Gyud med monastery in Hunsor, Karnataka district.
On some Indian girls' requests, who making floral arts as holy gifts was Ven. Kesang from Gyud med. This girl put his presented flower on her little palm, and began to run joyfully. As if such a tiny butter flower had changed its nature magically into a true flower. He had once explained for me in other occasion that they had been tried to mix some wheat flour to prevent melting of butter in much hotter temperature in India than its original home. Mr. Kesang who was my acquaintance for 15 years had once visited Japan to demonstrate their making sand Mandala with some other Gyud med monks, First time I met him in Dharamsala.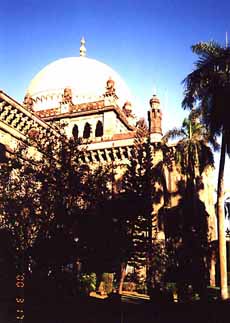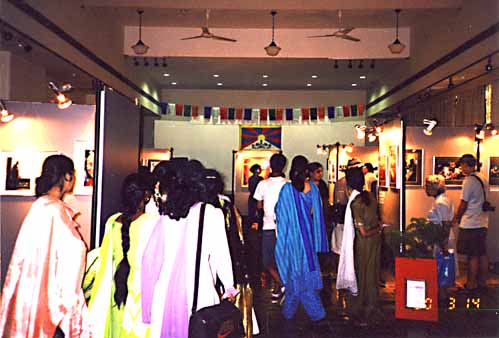 Prince of Wales Museum

there was the photo exhibition by the five professional photographers gathering from inside and outside of India. 5 minutes by walk from their main site YB Chavan Centre, 20 minutes by hotter walk from the Church Gate station. If you are coming from Colaba hippie station, find just opposite of the Regal Cinema movie theatre, beyond the northern end of the Colaba causeway, walk across the Wellington fountain roundabout. Needless to say, this circular area is one of the main meeting spot for every tourist in Indian time travel, always this museum is crowded by the packaged tourists from such as Japan with same thick guidebooks. The museum's structure itself of a solid solemn masonry, lets you bear the good old false toothed master British ruled times. There are a lot of such stony historical buildings in Bombay.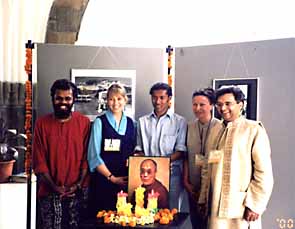 The centre in this photo is Mr. Lobsang, young bright Tibetan photographer. As a modern pro cameraman, he seemed in very rare critical position. He can cut relaxed human subjects out of his own Tibetan society, through his insider viewpoint, focusing and exposing the life's reality,
<underconst>
nothing special, not especially talented, eternally boresome, doubly sacrificial Tibetan laymen and women's really ordinary life in exile.
In the sword-like camera crossing field, with other international photographers who they were coming with survival instinct sniffing the worldwide topical theme such about Tibet, poverty, persecution, .....................................hehehehehehehheheh
His eyes never forget a simple question who should be the photographer, idea.
He seems to increase objectivity limitlessly from now on. involvedness. babyface............................SMOKE SMOKE
he yet alone seemed have curious ironical paradoxical future to look forward, to realize. Tibetan must get changed. MAYBE SOMETHING WRONG WITH ME
SORRY I CANT WRITE ABOUT HIM WITHOUT JOKE FEELING..................
<underconst END>

Most left in the Photograph is, Indian photographer, Mr. Shilvasa (Suresh Natarajan) who took the special portrait of HH Dalai Lama on the cover of the festival brochure, where Dalai Lama himself in his full of playfulness, was standing and folding his arms on the porch out of his private room in Dharamsala. Mr. Shilvasa captured him in his exhibition works, that the daily life of Dalai Lama who felt at home in his residence in upper Dharamsala. Dalai Lama's off time away from his official burden. We could read brief but poetic comments written by the photographer himself added on all of the shots. There Dalai Lama's openhearted personality and meditative solemness were continuously captured in a sequence of photos.

Mr. Shilvasa invited me twice within a week to his own photo shooting studio facing Mahim beach that was not so far but some distance away from Bombay centre of commerce to the north. It was the huge creative space expanded on the whole top floor of a kind of Soho building from where we could look right down the Mahim's shallow vibrato of the shoal reaching to the horizon. The sea breeze rose from the windows opened up. Sunny reflection on the sea was re-bouncing down from the high ceiling to his floor.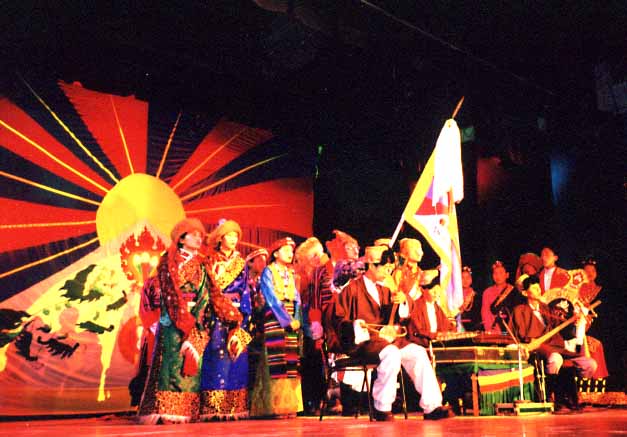 In the night of 17th, the closing ceremony.

VIP celebrators who had been specially invited from several countries as the lecturers and supervisors made their last speeches from the dais, congratulations and goodbye.

Then by a Tibetan Rimpoche (Sorry I forgot his name), one of their highest priest, handed ceremonially precious white cloth "Kata" down on each shoulder of all of the staff who had rendered entire services, and acknowledged them with Dalai Lama's new book named 'Breaking Silence: In Support of Tibet'.

When some familiar names of friendly staffs whom I had been with were just now being called one after another to climb up on the dais, I felt glad with some certain empathy on their back grown up in my mind within these few days, I laughed with joy, I was just seeing them off by my best applause. Till then as always I was nothing but a universal baby watching India, I mean there was no business on me. Then suddenly looked like something of my name in very trilled accent was called from the upperside. I was puzzled and still remained in the same lower seat with other thousands of audience. Sooner, Mrs. Bertie she's beautiful in my next seat stood up and shut her seat as she said, "OK, they call you now!" There she made my road with smile.

At last I got it. that's my name, it made me immediately happy, the next moment I found myself following other friends went on the dais. Yes I remembered and understood why Mr. Bertie had told me that I should attend the closing ceremony, and pushed me into the square ceremony hall. I was moved by such a nice surprising honour for me that they had prepared, and I thanked to the people concerned and finally everybody.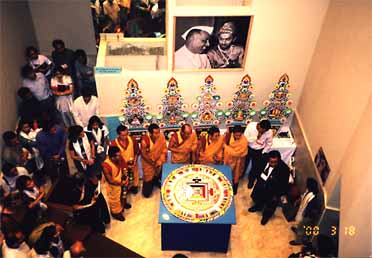 Destroying ceremony of Kalachakra Mandala

The next morning after the festival, it was Sunday, since I had to go home with that day's flight, I went to say farewell to the hotel Regency Inn where during these days fully chartered as the foothold of the staff. Both Sethu Das and Alifia seemed to be very busy by settlement for the coming several days.

Alifia alone had grasped the schedule of all the staff. Besides, dynamically managed the reception of VIPs, one and another, kept good total administration with other staffs.
Everybody relied on her, she is not especially tall, considerably powerful and intellectual person.
"I observed your art of management. I owe my comprehension covered on the festival to your harmonious coordination so much. Sure, everybody knows that, wherever you go, you'll make the right thing. So what's your next plan after this?"
When I asked so, She replied brilliantly, "I've gotta go to Dharamsala since I am invited." I felt like coming with her. hehe.

Sethu Das said, "Since I had been in charge, I couldn't treat you alone. I wish I had taken you to some beautiful places in Bombay. When will you come next time?" He smiled on me with slight sorrow at breaking the party.

"Instead, your Boss Mr. Bertie has treated me enough, under the same fellowship. And I'd love to come back to in this summer or die." Said I.
He remembered something at the last moment, and asked me a question brightly, "Have you looked at the front page of the Sunday Times, today?" he kept on, "Don't you know we have featured the huge Mandala image that you contributed to friends of Tibet on the front page of the paper, with the Tulku star kid of the cinema Kundun, this morning! Have a look you'll be glad we did."

Later I bought the Sunday Times from a swampy roadside vendor, probably I paid 2 rupees 50 paise, I smiled my Mandala work was in full colours on half of the front page with yet shyly smiling Kundun monk kid.