---
Courses in Contemporary Netsuke Carving
---
Asahi Culture Center
Asahi Culture Center in Shinjuku, Japan, offers classes in contemporary netsuke carving, where basic skills in creating original netsuke are instructed by two artists: Komada Ryushi and Kuroiwa Akira. The classes began in April 2000. If you are interested in carving netsuke, you can't miss this opportunity!

Place:
Asahi Culture Center (fourth floor of the Shinjuku Sumitomo Building)

Time and date:
Morning class: 10:00am - noon, second and fourth Thursdays
Evening class: 6:00pm - 8:00pm, second and fourth Thursdays

Fees (for either morning or evening class):
Admission fee, 5,250 yen; 6 classes for a period of three months, 25,200 yen (this fee may vary depending on the number of classes during the period); facility maintenance fee, 1,575 yen; tools, 20,000 yen.
For enquiry, please contact the Culture Center below.


[Asahi Culture Center]
Address: P.O. Box 22, Shinjuku, Sumitomo Building, 2-6-1 Nishi-shinjuku, Shinjuku-ku, Tokyo 163-0204
Tel: 03-3344-1946
Directions: A6 exit of Tochomae Station (Toei 12-go line), C5 exit of Nishi-shinjuku Station (Marunouchi line), or walk from Shinjuku Station (JR line, Odakyu line, Keio line)
Reception desk: 9:30am - 7:00pm, closed on Sundays and national holidays
Website: http://www.asahiculture.com/shinjuku/

[A Visit to the Netsuke Class]
As has been announced in this page, the course in netsuke carving has been taking place. To explore what the instructors and students do in the class and what the people involved with the course think or feel about it, I visited the class on July 27, 2000.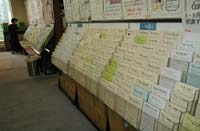 After ten minutes' walk from the busy Shinjuku Station, I arrived at the Shinjuku Sumitomo Building, on the fourth floor of which is the Asahi Culture Center. The Center is organized by Asahi Shinbun-sha (one of the biggest newspaper companies in Japan) as their cultural activity, and there are seventeen other "Centers" scattered around Japan. On entering the facility, I was amazed to see the long arrays of small leaflets which provide details about hundreds of classes offered by the Center. The courses are diverse in subject ---highly practical classes like cooking, language lessons, how to use computer, as well as artistic subjects like music, dancing, creative writing, etc. The classes are conducted by university professors or noted experts in the fields and are mostly for adults who want to follow their hobbies or take up a new activity.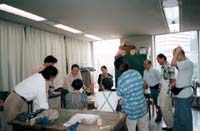 Gone through the reception counter, I entered the room number 7, where the netsuke class was taking place. It was 11:00am, an hour after the class had begun. All the eight students of the class gathered around the two netsuke artists (Mr. KOMADA Ryushi and Mr. KUROIWA Akira), who were giving advice on sketches of a few netsuke designs by some students. In passing, up to that day since the course began in April, the students had been given general concepts of netsuke and instructions on how to use the kind of scrapers (that are usually called "small knives") and files that have been utilized by netsuke carvers in Japan. Each of the students had been provided with a small piece of fine elephant ivory, out of which they were instructed to make a medallion. Through the carving process, they practiced basic use of the scrapers and files. Now they were about to create a netsuke of their own design (I feel that the word "create" is more appropriate than "make" or "carve", because students were not allowed to make a copy of an existing netsuke in this class!).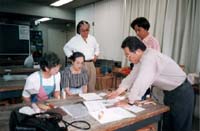 The students seriously listened to the teachers' comments about their designs and to their advice on how those designs could be developed or improved. On the basis of their experiences, the artists gave some tips on how to associate designs with the shape of small-cut pieces of materials. This discussion session went on for another half an hour in a very friendly atmosphere, sometimes in a serious tone, sometimes with laughter. The instructors then suggested that each student start working on his or her own project separately. Some of the students got back to their sketches to improve them, some started carving small pieces of wood or ivory, while others talked with an artist about carving tools. The instructors then walked around giving advice or showing the proper way of using tools and materials. I was impressed to observe how enthusiastic and fascinated the teachers and students were in the class.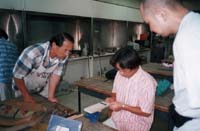 The participants vary in experience in carving, and it was interesting to know what they have realized through the course. Some of them had taken lessons in some kind of carving, some were self-taught carvers, still others had not had any experience of carving. All of them, however, have long been interested in miniatures or involved with some kind of art forms, if not netsuke. For example, one of them took classes in Buddhist-image carving for fifteen years, but she says that the experience does not help much because netsuke carving is a whole different perspective from carving Buddhist images in terms of materials, designs, and carving techniques. One student, who had never learned carving before, found it difficult to carve a piece of material into the design that she pictures in her mind. Another student said that, he looked at a flower one day, and found himself flipping it over to see the reverse side ---he might have unconsciously formed a habit of turning things over to find out what the bottom or the other side look like, because in netsuke, you have to carve all the sides including the bottom. He also says that whenever he goes to an exhibition of carvings, he would look at the exhibits more carefully than he used to and wonder how those carvings are done.

After the class, I asked some questions to the instructors.
- What is the concept or goal of this course?
Ryushi: "It is for participants to acquire basic carving skills and to create an original netsuke."
- Are you going to teach students how to use power tools? If so, how do you make a balance between those and hand tools?
Ryushi: "Yes, we will teach them how to use electric grinders in the future, because I have found and developed at least a few nice effects that can only be achieved with power tools. But I think the ability to use scrapers and files is a fundamental basis in carving netsuke, so the students should master hand tools, and consider power tools as auxiliary equipments.
- How do you team up to serve as instructors?
Ryushi: "We discuss general plans before each class, and make preparations together or separately. In some areas our knowledge and expertise overlap but in other areas they don't, so we cover wider range of areas than one artist can."
Akira: "I think it is good for students to have two teachers because they may get more than one point of view, and the two opinions get the students to think what is best for them."
- What do you think about the class and the students?
Ryushi: "The students are so eager to learn and we have so many things that we want to teach no matter how they are experienced or not, so the lesson of two hours every other week seems too short for all of us. In fact, the class sometimes go on beyond the scheduled time. Each of the students has unique, interesting individuality and seems to put heart and soul in carving netsuke, so we are very much looking forward to seeing their works when they are finished."

I talked with the administrator who is in charge of the netsuke course. She said that, at the Asahi Culture Center, the classes whose subjects are related to Japanese culture have increased in number over the last few years, and the netsuke class is one of them along with other classes like tea ceremony and shamisen playing. The quota of students for this kind of craft class is twenty or thirty, and the netsuke class has only eight people enrolled as of July 2000. She thinks that the number of participants will grow as netsuke as an art form becomes popular among the Japanese in general.

I strongly believe that the enthusiastic mood that I felt in the class is the sign that this netsuke course result in success. I am sure that the participants will be able to create wonderful netsuke. The administrator says that the registration is possible at the beginning of every month. I think those who are interested in carving netsuke should grab this opportunity, regardless of the past experience in carving.
Komada Makiko
July 27, 2002
[Netsuke Class Update]
September 2000: The students are now learning how to make blades for scrapers out of a stick of steel.

November 2000: Two persons newly enrolled in the course!

December 2000: All the students are making a strenuous effort to finish their own netsuke.

October 2002: Compared to the beginning of the class, more than double the number of students are enrolled at the moment.

January 2007: In the last few years the classes have about 20 to 30 students, each of whom have been creating netsuke with their utmost originality.


Shop for wood material

Wood and Do-It-Yourself Shop Mokumoku Co., Ltd.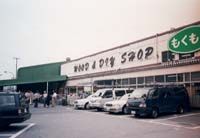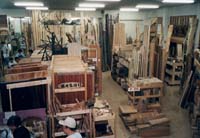 Photo: left, exterior of the shop; right, interior



If you are a wood carver, you'd be thrilled by the whole selection of wood materials and services offered by the shop! "We have woods of over 100 species from around the world and we want to accumulate as many kinds of wood as possible to offer to our customers," says Mr. Iseki Kazuo, the president of Mokumoku Co., Ltd. They not only have wide variety of woods, but also offers pieces in various size and shape. On some shelves, there are piles of small pieces of wood from which you can choose. As far as I could see, there were such small pieces costing a couple of hundred yen through one or two thousand yen. It is also possible to examine a large piece and have it cut into the size or shape that you want. The price of a piece varies, depending on quality, size, weight, and other conditions.


The shop accepts telephone order and offers shipment service (unfortunately, those services are available only in Japan). However, they suggest that it's better for you to take a look at materials before purchasing them. In addition, they invite you to be a member of the shop. The membership include 5% discount for a part of the materials they offer, and also a newsletter announcing sales, etc.


Mr. Iseki has been a wholesaler of wood for many years, and he opened this retail shop about ten years ago for anybody who wants to buy pieces of wood, regardless of size and quantity. The shop was named as such to be accessible to everyone (for me, the name conjures up an image of woods pouring from somewhere, probably because in Japanese there is a mimetic word "mokumoku" describing, for example, pouring smoke from chimney, and the Chinese character for wood has a reading "moku"). Mr. Iseki and his son Masata (senior vice-president) unstintingly share their vast knowledge in wood with customers. They sometimes show up in the store, so if you are lucky, you can see them and talk to them! The shop is located in Shinkiba, famous place for wood business. It only takes about 20 minutes from Ginza (by subway, for example). If you are a wood carver and if you come to Tokyo, this place is a must to visit!




[Wood & DIY Shop Mokumoku Co., Ltd.]

Address: 1-4-7 Shinkiba, Koto-ku, Tokyo
Directions: Approximately 5 minutes' walk from Shinkiba Station (JR Keiyo line, Subway Yurakucho line, Rinkaifukutoshin line)
Fax: 03-3522-0084
Open hours: 10:00am - 6:00pm (processing wood such as cutting is till 5:00pm)
Closed around new year's day
Website: http://www.mokumoku.co.jp (Japanese)

---


| Koryuen Home | What is a Netsuke? | Exhibitions and Events | Publications |

| News and Views | Reports on Events | Netsuke Carving |

| Netsuke Organizations | Museums | Links | What is Koryuen? |


All rights reserved. Komada Makiko (c) 2000