Art sent to Japan in 2011
an art show of human triumph
after the quake, tsunami, nuclear falling, etc..
URL: http://distant-earth.org/
Forum: http://distant-earth.org/phpBB3/
Call for Contributors.
There I am going to open a collaborative art space for saving earth, in this critical timing.
My intention under the hat is actually, (Stop Japanese child play on the earth!)
But I won't mention it any more. I'd like to welcome anybody on any side.
I'll be glad if you lead fellows to this site with your own wording.
Example achievements I did with some of you:
http://www.cc.rim.or.jp/~atsuro/complex01.html
http://www.cc.rim.or.jp/~atsuro/complex00.html
http://www.cc.rim.or.jp/~atsuro/complex99.html
http://www.cc.rim.or.jp/~atsuro/complex99b.html
http://www.cc.rim.or.jp/~atsuro/complex98b.html
So please prepare
your 2D 3D art, photo, video, music, poem, etc., to send me or show me the URL.
From late-Apr 2011 through... maybe almost permanently I'll hold.
I also plan to show them off on the real field. Still everything in vague.
Atsuro Seto
webmaster @ distant-earth dot org


Home///Archive 1999//98///Link///Click every image Thank you!
---
00. sample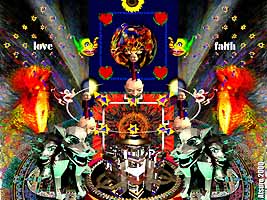 "Invitation to the Mandala Complex 2000"
Atsuro Seto: < >
URL: http://www.cc.rim.or.jp/~atsuro/
Welcome to the Abstract Mandala Complex 2000.
This will be a Gravity-free Art space,
Growing away from any categorical religious mess.
Dancing, Flowering with or without any axis.
Send me your flower-photo, kaleidoscopic work, etc..
Anybody can join as a contributor.
Thank you, Love and Peace over again!!
Atsuro Seto, April 00
This condition is the same as: Complex 1999.
Each image size should be like other participants.
---
01. sample

Dance / Atsuro
For example <Your E-mail is here>
Your URL is here: http://www.i_have_no_URL.com
and here your comment if any.
---
02. first entry

White Tara / Jun Deguchi
< >
---
03.

Prink / Dave Mason
< >
Web site: http://pages.britishlibrary.net/clear1
---
04.

Buddha's alter / D'Orchid
< >
URL : http://www.runningwildonline.net
Expressing chronic pain through digital art.
---
05.

Bhaisajyaguru Mandala / Dharmapala Centre
< >
URL: http://www.thangka.de
FB: https://www.facebook.com/dharmapala.centre

School of Thangka Painting
---
06.

Astamangala Mandala / H.R.Downs
< >
URL: http://www.sonic.net/~hrd
from the original which is 4096x3072 and 300dpi.
---
07.

Mandarava / Michael Tcherepanov
< >
from Russia.
I make drawings (pen, ink on paper).
Last 10 years I like Buddhism very much.
I have series of drawings "Gods of Tibet".
It was exhibit in The State Museum of the East (Moscow) in 1998.
---
08.

Fugen (Samantabadra) / Surya
< >
URL: http://www3.macbase.or.jp/~surya/borneo/
---
09.


11-faced Avalokiteshvara / Enkoh-Imakita
(sandalwood, laced with stripped golden leaf. height=40cm)
< >
URL: http://village.infoweb.ne.jp/~enkoh
Enkoh-Imakita: Japanese monk, Sculptor of Buddhist images.
---
10.

Mandala of Avalokiteshvara / Troy Frantz
< >
from USA
Don't be paranoid...
Self Absorption is rampant!
---
11.

Ganesha / Shilvasa
< >
from Bombay, India
---
12.

Sleeping Buddha / Shailesh Veera
< >
URL: http://www.designerspirit.com
from India
---
13.

BeHdBuddha / David E Litchfield
< >
---
14.

Augadh / Mandar Kulkarni
< >
URL: http://acenetworks.com/mandar/
The carefree reveller - Augadh. Lord Shiva is considered as carefree, quite wild, jovial
and wandering. HE is considered to be an addict of 'Ganja' (Marijuana) and alchohol, that
he intakes to get stoned to perform his furious Tandav. He is the generator
the sacred sound through his 'Damru', the twin-skin twin-headed drumlet.
---

15.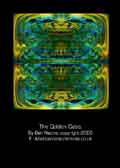 The Golden Cube /Barny
< >
"Good morning."
---
16.

Life in the Tree / Atsuro
< >
"Thks. Over!"
Abstract Mandal Complex 2000
Don't forget each art belongs to the artist.
When you touch, Do contact with the artist.
Home///Archive 1999//98///Link///Click every image Thank you!