TUNE Official Web Site / TUNE Products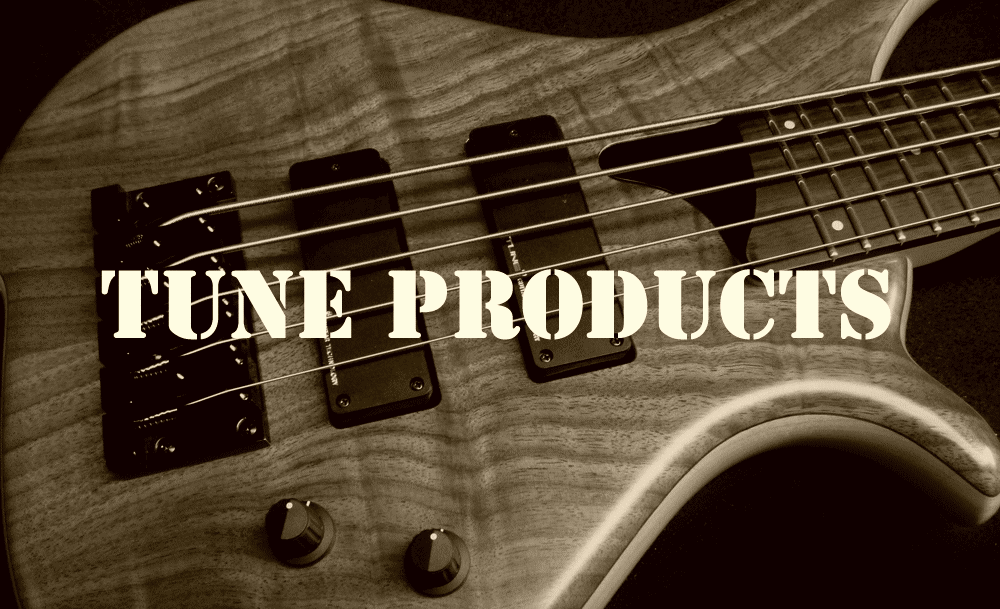 ---


C.A.T トレモロシステムを搭載したTWXTや、複弦仕様の8弦モデル、スルーネックモデルTWXTなど、様々なカスタマイズが可能なTWX Model。
基本的には、トップ材とバック材がエキゾチックウッドマテリアルで構成され、真中にマホガニー、メイプルといった材をサンドイッチした仕様のボディと、エッジの立った独特のヘッドデザインが特徴となっている。

This model is available in standard featured bolt on neck TWX type, custom featured C.A.T tremolo mounted TWXT and through neck option as TWXT/Through. Double stringed 8 string model is also available as an extnded feature when specified at your order.
The Basic wood featured in top/back laminated exotic wood material with maple or mahogany center piece.
TWX's sharpe edged contemorary designed body and headstock is most popular among customzed line.
---



海外ではキングベースと呼ばれ、非常に人気のあるデザインのモデルである。基本的には、トップ材とバック材とのコンビネーションと、やや丸みを帯びたヘッドデザインが特徴となっている。
カスタムオーダーモデルとしても、非常に人気があり、様々なミュージシャンがこのモデルを基本にしてシグネイチャーモデルを製作している。

This bass is well known as "King Bass" in abroad.
The wood combinations of top and back material creates heavy and clear bottom sound
---


TUNEがデビューして以来、変わらないコンパクトなデザインのTB Model。群をぬくプレイャビリティと、その小ぶりなボディにちりばめられたアイデアは今でも色褪せない。


The history of TUNE started from this traditional "Bass Maniac" since 1985.
Compact and slim body design with its reliable electrinics features showed today's modern bass derection

---



エレクトリックアコースティックベースのTAB-345、36インチスーパーロングスケールを採用したBeb series、日本初の7弦ベースB-7、36フレット仕様のTS seriesなど、
様々な可能性を実現させるために生まれた数々のベース達。

The original electric/acoustic bass, TAB-345 offers you a rich tonal control with combination of fine individual piezo and fat magnetic pickups.
BEB series creates amazing bottom punch with 36 inch super long scale.
B-7 is an outstanding 7 string model.
The wide range monster is TSseries, featuring 36 frets scale.
Tune basses are crafted to support all bass players in the world to fit any playing style.